Tianjin is one of China's four municipalities under the direct administration of central government. It is an international port city and the largest seaside city in the North of China, 137 km away from Beijing, the capital of China. Nowadays Tianjin is a dual-core city, with its main urban area (including the old city) located along the Hai River and Binhai, a New Area urban core located east of the old city, on the coast of the Bohai Gulf.

Tianjin is a birthplace of modern industry of China: the first wrist watch, bicycle, and television in New China were all made here. Since 1980s, Tianjin has turned itself into an important industrial base in North China. Tianjin is also a transportation hub with railway, waterway (sea and river), highway and airway connecting other major cities in China and outside the country.

Tianjin is a well-known city with a long history and abundant resources. Panshan Mountain, the No. 1 Mountain in Capital's East; Dule Temple, one of the oldest wooden structures in China; Ancient Culture Street, full of ancient Chinese culture and Tianjin custom. Tianjin is also known as the "World Building Exposition", which has numerous well-preserved European-style buildings in the "nine old concessions".

Tianjin cuisine places a heavy focus on seafood, due to Tianjin's proximity to the sea. Prominent menus include the Eight Great Bowls and the Four Great Stews. Tianjin is famous for its snacks. The four delicacies of Tianjin include Goubuli Baozi (steamed buns), Shibajie Mahua (fried dough twist), and Erduoyan Zhagao (fried rice cake). Tianjin is also well-known for many kinds of original breakfast, which cannot be eaten in other cities in China, including Jianbing Guozi (fried dough sticks rolled in a thin pancake) and Guobacai (a gravy-like soup littered with mung bean flakes).

The weather in spring and autumn are mild and are better seasons to visit Tianjin. The anural average temperature is 13 ℃, July being the hottest with 26 ℃ and January being the coldest with -4 ℃.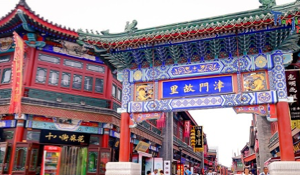 Heritage and culture
Museums

Art galleries

Heritage towns

Former celebrity residences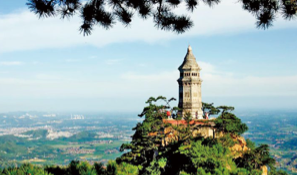 Sightseeing
Mount Pan

Dule Temple

Huangya Pass Great Wall

Grand Canal
Snacks and Specialties
Goubuli Baozi (steamed buns)

Shibajie Mahua (fried dough twist)

Erduoyan Zhagao (fried rice cake)

Jianbing Guozi (fried dough sticks rolled in a thin pancake)